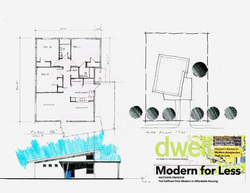 HATCHERS PRESERVE

18 single family homes in Immokalee. Funded by Collier County and HUD and developed by Rural Neighborhoods, this development is affordable housing for low income families in a style that breaks the stereotype of "shoebox" low income housing.
---
Cinco De Mayo Multi Purpose Building

This is a 7,500 SF building in an existing park developed by Rural Neighborhoods as part of the Everglades Community Association in Florida City. It is funded by USDA and hopefully Miami Dade Parks and Recreation who will operate an after school program from the building. The design features an outdoor covered space that faces a large green "meadow" and will double as a performance space for the almost 2,000 farmworker residents who live at ECA.
Pollwog Commons Senior Housing
A 29 unit HUD funded elderly housing project located in Labelle, Florida. The site is adjacent to an affordable housing development designed by Ted Hoffman and completed in 2011.