This is a cultural center in rural Brazil by Christian de Portzamparc. They can pour concrete like this, and I can't get people to use new plywood for forms?
---

Heres a wonderful building that I'm embarassed to say I can't find the architect for. When I come across something I wish I had done, I copy the images to a file and always include all the info I can, especially the architect. Not this time, though. It's in Africa I believe, and, oh man, talk about context, creativity, and "that feel".
:mlzd architects Bern Historical Museum Switzerland
This building which I came across in an architecture magazine explores nicely the plasticity and sculptural quality of concrete. I know little of the oddly named architects but I admire this building.
Interesting Photos
Copy and Paste the link below.....How cool is that!
http://www.stumbleupon.com/su/7JYmCu/:-Al.1T58:CBcDBL9G/en.spread-grani.com/kumi-yamashita.html/
Diller, Scifillo, Renfro Architects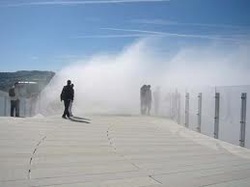 I first noticed these architects when they built the "blur" building in Switzerland in 2002 as part of an Exposition. I was, and am, fascinated by the idea that what we build is sometimes, heck, most times, perceived so differently from what we intended and how the perception changes as the building evolves during construction. So, a building that completely goes away after it's built tests not only the iconic nature of building but the idea of permanance and utility. And, oh, yes, it's very, very cool. The video below is long, maybe overly so, but you can scroll through to get to the good stuff.
---
Miami Beach Parking Garage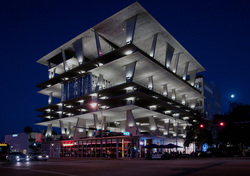 Here's a building that makes the power of space making real. A parking garage, no less, on Miami Beach by Herzog and De Meuron, Swiss Architects. They have made an amazing building and I think they are some of the most creative and imaginative architects working today. I've included photographs I took below and there is a video at the link below. There must be an easier way to access it, but, for now, copy and paste it in your browser and, if you are in Miami, go and see it.
---
http://www.herzogdemeuron.com/index/projects/complete-works/276-300/279-1111-lincoln-road/VIDEO.html
http://therepublicofless.wordpress.com/2010/07/20/herzog-demeuron/


My First "Building"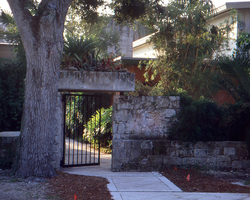 In 1975, my first year with Lester Pancoast, I was given the assignment to design a new entry gate at Fairchild Gardens where Lester was a board member. It was a small project but I took it seriously. There was a low coral rock wall in which the new gate was to be located. I supported an exposed concrete "cap" (recessed on top to allow things to collect and grow) on steel columns and coral rock walls and inserted the new gate in the opening. I wanted to respect the "feel" of the buildings and materials at the Gardens but also make an organic modern statemnent. I see it every time I go there and it holds up well.
---